Pakistan, India and Afghanistan are battling extremists at different levels and all three of them are 'destined' to play a role in the 'war on terror'
By Hassan Abbas
The News, Special Report, December 7, 2008
Naomi Klein, Canadian columnist and author of The Shock Doctrine insightfully says, "Terrorism doesn't just blow up buildings; it blasts every other issue off the political map. The spectre of terrorism - real and exaggerated - has become a shield of impunity, protecting governments around the world from scrutiny for their human rights abuses." South Asia today is a victim of terror in this context. Social injustice, political instability, religious fanaticism and a rising sense of insecurity are the factors pushing South Asians to the brink of a prolonged conflict.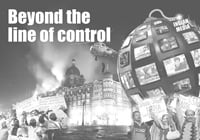 If this diagnosis is accurate, then logically the remedy lies in the rule of law, the empowerment of the ordinary, pluralism and the resolution of the regional conflicts. No change in the Western power corridors alone can usher in a transformation in South Asia, especially Pakistan, Afghanistan and India, if these three states remain poorly governed, distrustful of each other and continue with the policy of marginalisation of their minority communities – ethnic as well as religious. India is better governed than Pakistan and Pakistan has a better track record than Afghanistan but at a regional level the fate of these countries is interlinked. Bangladesh and Sri Lanka have similar issues but for the purpose of this article, I am only focusing on countries which are battling extremists at different levels and are 'destined' to play a role in the 'war on terror'. United States' relations with and stakes in these three states also put them into a unique category of sorts.
The fact that President-elect Barack Obama of the United States has not used the phrase 'war on terror' at least since he won the election on Nov 4 is a hopeful sign. It is encouraging because the 'war' has complicated the South Asian scene immensely in the last eight years or so and a different strategy and perspective is the need of the hour. However, any change in US policy can only have a complimentary effect – as South Asians themselves hold the real key.
Beginning with the case of India, its democratic and pluralistic credentials are well established. In a Hindu majority state, till recently a Muslim was the president of the state and currently a member of the Sikh minority community is the prime minister. However, there are also active insurgencies in its Northeastern part and, according to South Asia Intelligence Review, a mainstream Indian research centre, there are 30 armed insurgent groups operating in that region. India's controversial policies in regard to Jammu and Kashmir, are more well known to Pakistan. Despite sustained economic growth, poverty and inequality are also serious challenges facing India. Last but not the least of its troubles relate to the plight of minorities in India – primarily Christians and Muslims. Attacks on many Christian churches in recent years, orchestrated by Hindu extremist groups, are well recorded and findings of the Sacher Committee report about the social, economic and educational status of Muslims of India speaks volumes about the societal as well as institutional biases against Muslims. Massacres of Muslims in Gujarat a few years ago were reported worldwide. Despite these problems, India is internationally recognised as a rising power and its economic success is acknowledged round the globe. According to a recent US intelligence assessment (NIC's 2025), India's rise as one of the major global economic powers in coming years is a foregone conclusion. Growth rate statistics and infrastructure improvements in India substantiate this view. The fact that the Bush administration went out of its way to sign a treaty for nuclear cooperation, ignoring the concerns of many influential quarters even within the US, show the US deference for India's success.
In this context, the ghastly and deplorable terror attacks in Mumbai jolted India as well as the international community. Besides exposing the failure of its intelligence services and counter-terrorism outfits, it damaged the credibility of Indian politicians in the eyes of the people. More importantly for Pakistan, however, is the Indian consensus that Pakistan has at least something to do with all this. By and large, the international community - and especially the Western states - share Indian suspicions. Interestingly, Pakistan sees this assessment as a mere propaganda. Irrespective of whether any Pakistan based militant group will be found involved in Mumbai attacks, Pakistan must look inwards also to analyse and evaluate why Indians think on these lines.
Without a doubt, Indian media channels jumped to conclusions that were targeting Pakistan even when the details about terrorists were very sketchy and unconfirmed, but likewise mainstream Pakistani media was also unwilling initially to even hypothetically consider that militants from Pakistan can be involved. If Pakistani militants can destroy Islamabad's Marriott hotel and blow themselves up so often in almost all corners of Pakistan, what can possibly stop them from going to India and conducting similar operations. Considering all possibilities dispassionately is no sin.
Indian government had its own limitations, inhibitions and political compulsions to put all the blame on Pakistan right from the word go. Hopefully, wisdom will prevail when India comes out of the shock. Extremism, bigotry and violence know no state boundaries. The fire that is burning in Afghanistan and parts of Pakistan was bound to reach India in some shape or the other. Indian regional policy has its share of failures and transgressions. In the sphere of intelligence wars too, India was not behind other states in the region. However, given that India's democratic institutions are strong, it will likely realise that unresolved conflicts, perennial distrust between neighbours and use of force against one's own people exacerbate differences and increase chances of non-violent reactions.
Pakistan is more or less in a similar bind, though the causes are perhaps more potent and symptoms of malaise are more pronounced. Authoritarianism, feudal mentality of the political elite (with few exceptions) and confusion about the role of religion in state encouraged by the 'defenders of the faith' has engendered an identity crisis in the country that has stilted Pakistan's growth and progress. Ethnic and sectarian confrontations are a by-product of this phenomenon. Rivalry with India and consequent insecurity on the other hand undermined Pakistan's potential significantly. Rather than trying to figure out how to tackle these serious challenges, historically Pakistan's leadership pushed it into regional and global battlefronts in search of security. The consequences are proving to be disastrous. We must not forget that this vicious cycle of instability begins from state's failure to govern and stabilise itself.
Afghanistan's story is not much different, though it went through a longer spell of instability, civil war and violence. Tribalism, besides failure to develop an equitable formula to share power among different ethnic groups and bridge the gap between its urban and rural areas spell the disaster for Afghanistan. Consequently, its leaders looked outwards for strength and resources turning it into a rentier state. Afghan Jihad of the 1980s saved Afghanistan from Soviets but destroyed its social fabric and the US involvement in the country since late 2001 has created more problems. Taliban resurgence is a gift of Western 'nation-building' failure. The solutions there, too, are hidden internally.
This brief analysis about political and security dynamics in India, Pakistan and Afghanistan is geared to make just one basic point – internal solutions in terms of empowerment of the people, equitable rights and instituting accountable and representative governments are crucial to stability, security and development of any state. The ugly face of religious extremism and radicalisation leading to violence in South Asia can only be defeated by these three countries through reconciliation, mutual cooperation and by forgiving each others' past mistakes. United States under Obama presidency can facilitate as well as complement such a transformation by supporting those in this region whose rights have been trampled upon and to whom justice has been denied. That would be a sure way to play a constructive role in stabilising the region.
(Dr. Hassan Abbas is a fellow at the Harvard University's Kennedy School of Government. He is the author of Pakistan's Drift into Extremism: Allah, the Army and America's War on Terror and runs a blog Watandost. He can be reached at
hassan_abbas@ksg.harvard.edu
)
Saturday, December 6, 2008; Page A08
ISLAMABAD, Pakistan, Dec. 5 -- Fateh Khan doesn't know much about the fight against terrorism. He doesn't know much about the attacks that killed more than 170 people in Mumbai last week, either. But if there is one thing the Pakistani taxi driver feels sure about, it's that after three wars, India -- not terrorism -- remains the No. 1 threat to his country.
"Every Pakistani is clear that India is the enemy state," Khan said. "Pakistan has always tried to live at peace with India. But India has not tried for peace."
As more details emerge about alleged Pakistani links to the three-day siege in India's financial capital last week, a rare national unity is coalescing in Pakistan, centered on its old enemy. Although debate continues about how to manage attacks on politicians and government institutions by armed Pakistani groups, the Indian accusations against Pakistan after the Mumbai attacks have reminded many of India's 60-year role as the primary security threat here.
From Taliban commanders in the northwest to liberal businessmen in Islamabad, the capital, Pakistanis have this week been rallying around the flag. Tensions with India have prompted pledges of support for the government even from the Taliban, the growing insurgent force based on the tribal agencies of the country's North-West Frontier Province.
This week, several leaders of armed Islamist groups in that region vowed to lay down their arms against the government and stand with Pakistan's military in the event of a clash with India -- a turnaround for groups that in the past six years have killed more than 1,200 Pakistani troops.

"We may have a dispute with the Pakistan government, but we would set aside our differences if our homeland was threatened by outside powers," said Maulvi Nazir, head of a powerful Pakistani Taliban splinter group in the tribal area of South Waziristan. "We would raise a force of 15,000 tribal Taliban to fight on the side of Pakistan's armed forces. We would infiltrate 500 suicide bombers into India to cause havoc there."
That promise of assistance has not gone unnoticed in Islamabad.
In a briefing with reporters after the Mumbai attacks, several top officials of Pakistan's Inter-Services Intelligence agency, or ISI, said they welcomed the offers of support from Nazir and Taliban leaders such as Baitullah Mehsud.
Only a year ago, Mehsud, who reportedly commands thousands of foot soldiers in his native South Waziristan, was Pakistan's most wanted man. Days after the assassination of former Pakistani prime minister Benazir Bhutto, Mehsud's name surfaced as the possible perpetrator of the Dec. 27 bomb attack that killed her.
Rahimullah Yusufzai, a Pakistani journalist based in the northwestern city of Peshawar, said the current mood among insurgent leaders such as Nazir and others in the region is sharply anti-Indian and pro-Pakistani. But Yusufzai cautioned that an opportunistic impulse lies beneath the groups' recent avowals of support for the government against India.
"Right now, these are only statements. They are offering support, but they are also saying that in return for their support the military must stop its operations in the tribal areas, in Swat and other places," Yusufzai said. "They are trying to seize the moment and say, 'Look we're not anti-state, not anti-Pakistan.' But the government has to be careful. It should not respond by pulling out troops."
Many ordinary people in northwestern cities such as Peshawar are wary of expressions of national unity and more inclined to empathize with India's position, Yusufzai said. Hundreds of civilians have been killed and wounded in insurgent attacks this year, and the mounting violence has sensitized the population to the government's failure to rein in terrorists within Pakistan.
"There is a feeling that these jihadi groups need to be cut down to size," Yusufzai said. "People here have seen up close the results of their activities, so they are probably more inclined to believe some of the Indian accusations."
On Friday evening, a car bomb exploded in Peshawar, killing at least 20 people and injuring scores more, the Associated Press reported. Neither the motive nor the identity of the perpetrators was clear, but provincial government chief Haider Khan Hoti said "external forces" could be to blame -- a comment understood in Pakistan to mean India, the AP said.
Before the Mumbai attacks, Pakistan was already deeply divided over how to deal simultaneously with the internal threats posed by extremist groups and the external pressures from countries such as India and the United States. Since the attacks, that fracture has given rise to a heated public debate.
In a column Friday in the popular English-language newspaper Dawn, Pakistani defense analyst and author Ayesha Siddiqa noted the Pakistani Taliban's apparent overnight transformation from pariah to patriot amid the public furor over the events in Mumbai. "And hadn't we been informed earlier that all these 'patriotic' warriors were in fact murdering Pakistan's people and its brave soldiers?" Siddiqa wrote.
"We could cry ourselves hoarse about a foreign conspiracy to finish Pakistan, but it would not change the fact that Pakistan faces the threat of being internationally ostracized unless it begins to look inwards," Siddiqa added.
Since its founding in 1947, Pakistan has been ruled by a succession of military generals, wavering all the while between war and tense detente with India. Civilian governments have historically been short-lived and widely seen as ineffectual against threats to national security, particularly from India. But after the resignation this year of President Pervez Musharraf, the country's former army chief, expectations were high that the civilian government elected in February would reverse that perception.
Nearly four months after Musharraf stepped down, those hopes remain largely unfulfilled. Overwhelmed by economic crisis and the continuing insurgent threat, the new government has failed to mend the country's divisions and bring the military establishment to heel, experts say. Many of the militant groups propped up by the military in the 1980s and '90s have expanded their reach, and some still enjoy support from rogue elements within the military, according to U.S. military officials and intelligence experts.
Samina Ahmed, country director for the International Crisis Group in Pakistan, said the chasm between Pakistan's military and its civilian government undercuts the possibility of stability in the region as a whole. Pointing to several failed attempts by the civilian government this year to gain control of intelligence operations, Ahmed said conflict with India will remain imminent until the clash between the military and civilian cultures is resolved in Pakistan.
"What you see is a house divided, in which the military is hostile, and there's been a pushback from the civilian government, as well," Ahmed said.
After decades of diplomatic brinkmanship with India, many ordinary Pakistanis are skeptical of India's assertions of a Pakistani tie to the massacre in Mumbai. Yet many also appear to agree that another armed conflict with Pakistan's nuclear rival in the region should be the last option on the table.
"Whatever happened in [Mumbai] is a problem for the whole world. It's not just a problem for Pakistan or India," said Mohammed Ejaz, an Islamabad clothes vendor. "This should not reopen old wounds or hostilities, because any conflict would engulf the whole region."

Pakistani security forces took over a camp used by Lashkar-e-Taiba militants in Pakistani Kashmir on Sunday, a witness and an official from a charity linked to Lashkar said.

"This happened this afternoon, security forces took over the camp," said an official with Jamaat-ud-Dawa charity. (Reuters)
December 2nd, 2008
The talk at my Thanksgiving table—as no doubt at every Indian-American household—was all Bombay. We watched CNN through eating, with its hysterical headline blazing, "Mumbai: City Under Siege." Years of suicide bombings had suddenly given way to a wholly unexpected takeover of the major hotels, more typical of James Bond-villainy than latter-day jihadism. They differed in their attire as well: News reports insisted on pointing out that the attackers and hostage-takers wore jeans and t-shirts.
When I was younger, I used to travel through Bombay in order to get to my ancestral city, Bangalore. A bus would take you from the international to the domestic airport, along a vertiginous swath of blue-tarped slums. The air was oppressed by humidity; the rain didn't wet you, it slimed you. And those slimed shantytowns, shadowed—as every traveler ritually points out—by white stalagmites of luxury towers everywhere, had always been proof to me that it was a city of absolute evil. But poverty was only one of its evils. A Hindu family friend once took me on a drive that led through a large Muslim ghetto, its streets dusty and narrow. "Everywhere the Muslims go, they make the place dirty," he said.
It is that sentiment, which most middle-class Hindus don't have to go beyond their families to hear, that could rise quickly to the surface in the wake of these vicious attacks. "Bombay has hundreds of very different ethnic communities, most of whom heartily dislike one another," Suketu Mehta wrote in Maximum City: Bombay Lost and Found (2004). "They have been tolerating one another for centuries, until now." I grew up knowing about Bombay's pogroms in 1993, instigated by Hindu nationalist boss, Bal Thackeray (the model for Raman Fielding in Rushdie's The Moor's Last Sigh), which followed the demolition of a five-century old mosque at Ayodhya by Hindu mobs. The head of India's right-wing Shiv Sena group, which was founded in 1966 and based in Bombay, Thackeray would be essentially parodic if he weren't so murderous. He was until recently focused on starting an India-based rival to McDonald's, "Shiv Vada-pav," with a fried potato burger as its main attraction. And it was through his initiative that the city was renamed "Mumbai," after the city's patron goddess Mumbadevi—which, the nationalists argued, returned the city to its Hindu past. In reality, the Sena had overwritten history with a fantasy: Bombay was originally a Portuguese (Bom-baim), and then English (Bombay), trading port. The notion that it has a particularly Hindu past to return to is false.
Until 2004, when the old centrist Congress Party returned to power, it seemed as if India's spree in the neo-fascist supermarket, no matter how much violence it unleashed, would only encourage conservative Hindus to return the nationalist BJP to office again and again. People liked to portray it as a kind of revenge for centuries of invasion: the Moguls in the 16th century, Timur in the 14th, the Mamluks in the 13th. In one of his unfortunately frequent and dreary piques, V. S. Naipaul endeared himself to the ruling ideologues by claiming—in the midst of a tirade against the "banality" of women Indian writers—that "Islam destroyed India." The absolute nadir of Hindu nationalism was what most of its acolytes saw as its triumph, when Prime Minister Atul Bihari Vajpayee, whose bachelor status was a bizarre focus of admiration from male Hindus, brought the country to the point of self-annihilation by accelerating and completing its nuclear program: The code-phrase for the test was, "And the Buddha smiled!" India was "shining," the BJP said, as thousands of farmers committed suicide every year, and people fled the countryside in epic numbers to the cities, so that slums bordered each other in concentric circles. The Congress returned on a promise to help the disenfranchised, without compromising India's status as a good place to do business—that is, a place that didn't care what happened to its farmers.
But Prime Minister Manmohan Singh, despite strong-arming a nuclear deal with the US through parliament, possibly through bribery, is widely seen as weak. And for those millions who have called this "India's 9/11," weakness will not be tolerated at the voting booth, as it was not in the United States. (The next elections are in 2009.) A place whose hotels are not safe from Muslim terrorists is not safe for capital; it marks a perfect time for the BJP's re-entry, whose consequences all of us should fear deeply. The relationship between India and Pakistan had been softening in recent months, but a hard-line seems inevitable now. Mehta, in a mournful piece in The New York Times, pointed out that Bombay—or, rather, Mumbai, as his copy-editors no doubt required him to call it—was a target for religious zealots because it had always symbolized the triumph of commerce over traditional morality. He was attempting to understand the deep structure of all hatred for Mumbai—why a terrorist, seeking to make a point, would make it in Mumbai—rather than the events of last week in particular. In truth one suspects that Mumbai was just closest, could be entered, easily, by sea; and it's also the case that for years the nationalists had been trying to assert their "traditional" morality. Kissing in public is banned and policed; several years ago, the state's minister of culture found that park benches that seated two encouraged kissing, and so had them sawed in half.

Last week one of the terrorists gave a simpler reason for his actions: "Are you aware how many people have been killed in Kashmir? Are you aware how your army has killed Muslims? Are you aware how many of them have been killed in Kashmir this week?" One struggled to hear a whisper of Kashmir in the vacuous American presidential campaign; the clamor will—should—now be tremendous. Since 1947, Kashmir has been promised a referendum on its status. Its people recently voted in the third phase of a multi-part election for state assembly posts, which separatists boycotted, because they felt it was a poor substitute for a real determination of the "Kashmir problem." All this is harder to think about now. The reason for the terrorist actions has become, through the acts themselves, both urgent and wholly obscured.
A friend pointed out to me that I can't call the place Bombay anymore—I've always insisted on it, against the weird, historically suspicious nationalism of the '90s. But now these acts of terrorism have cemented the name in the world imagination. If I continue to refer to Bombay, people will wonder, "Hasn't he been watching the news?"
--
Whiz News provides news, views and interesting articles from various sources and all perspectives.